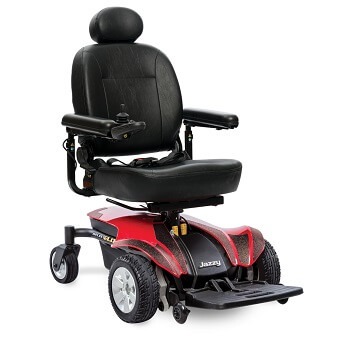 Medical Necessity
To get insurance coverage for Standard Power Wheelchairs, your insurance provider must determine you have a "medical necessity" for the equipment. This means you must have a condition that requires the equipment to prevent, diagnose, or treat and illness or injury; such as, you are unable to accomplish daily living activities in a safe and timely manner in your home without the aid of a Standard Power Wheelchair. This includes ruling out ambulating unassisted, using a cane or walker, have insufficient upper body strength to self-propel in a Manual Wheelchair, and that you are unable to maintain postural stability in a power scooter/operate a tiller for scooter. You must need a Power Wheelchair in order to perform your daily living activities.
Standard Power Wheelchair
For full-time power wheelchair users, the durability and support of a full-size power wheelchair is ideal for you. Full-size power wheelchairs are recommended for all day users because of their high back and comfortable seats, as well as a longer battery range. These powerchairs support weight capacities up to 300 Lbs. and seat sizes from 16"W to 22"W depending on the model View our most popular Medicare Standard Power Wheelchair Here:
Merits P322A Vision CF Powerchair
Pride Jazzy Elite Power Wheelchair
Connect with us for more information
Whether you have questions about insurance or equipment, or simply need some guidance, we're here to help you.